Gettin Started
Before starting with the Aria Templates generator, make sure you have yo installed:


Then you can start installing the generator:

npm install -g generator-ariatemplates



And actually run it:
That's it!!
The generator will create all the files needed for your project, including the Aria Templates framework and resolving all the dependencies automatically.
To have a look at what the generator creates, type, from the project folder, grunt server. It will open a new tab inside your browser and display the Hello World template.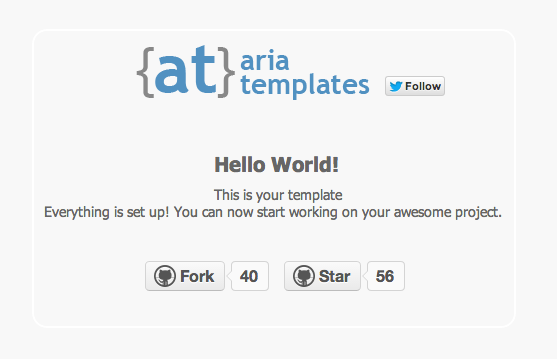 If you are able to see the Hello World message, you are ready to start working on your project!
It is possible to call the generator using some specific arguments, in order to customize the project's files that will be created.
Let's have a look to the options:
--wizard

using the generator in 'wizard mode' you'll be able to chose which file you want to generate for your project

--skip-install

to skip the automatic execution of bower and npm after scaffolding is finished

--help

well, to display the integrated help
You can even call just a subgenerator in order to create only a specific subset of files. For more info please have a look to the section SubGeneretor Mode.